TLM
Improve learning outcomes with the most complete teaching/learning manager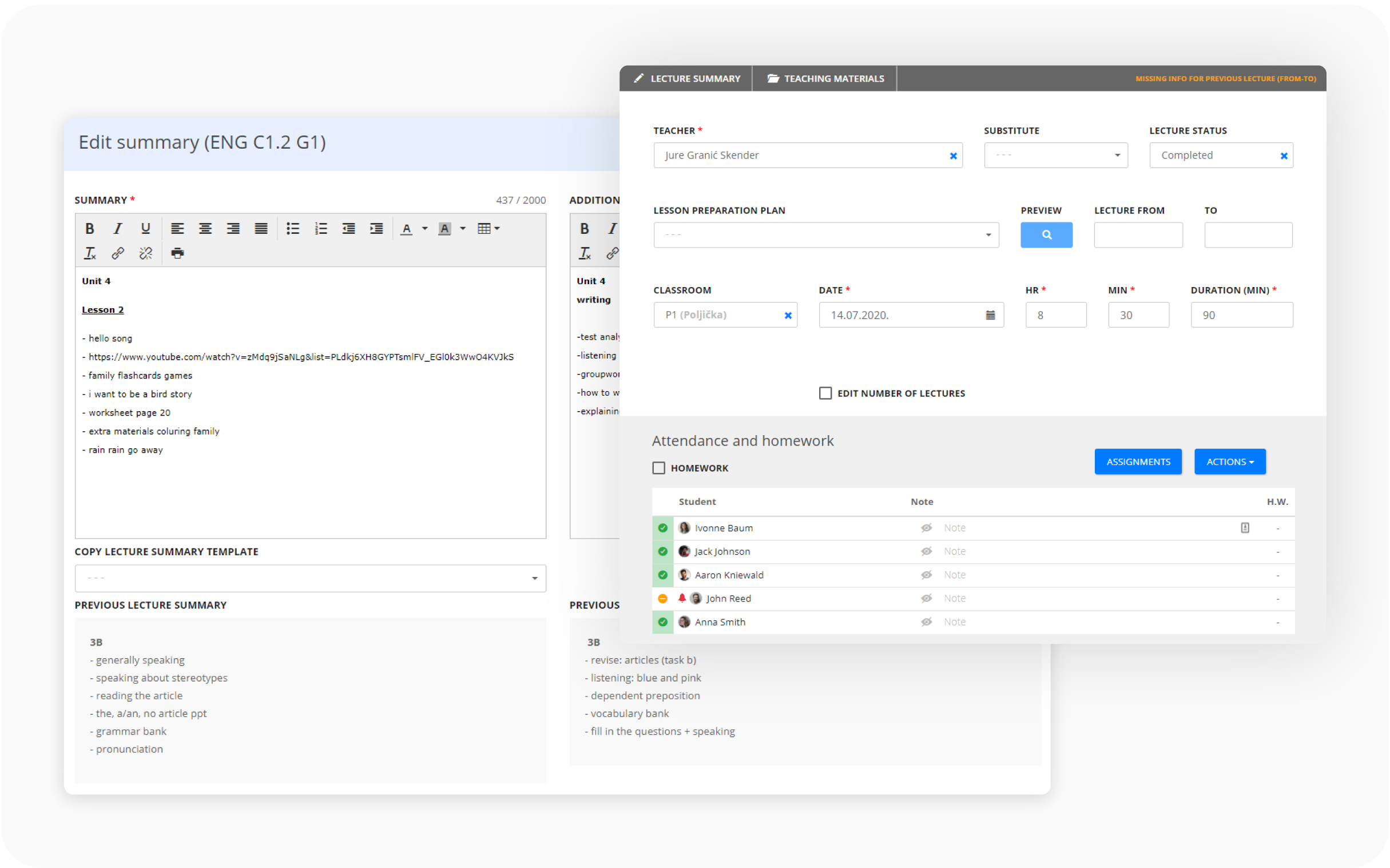 Amber SM includes an innovative teaching/learning manager, which includes a unique set of tools allowing for full digitalization and integration of course-related business processes. Our TLM allows owners, managers, administrators, teachers and students easy access to relevant course-related information, from schedules, grades, attendance, homework and even the distribution of digital learning materials. It is a powerful module designed for the effective organization and execution of your courses.
Organize and track your classes in real-time
Among the vast array of digital calendars and course schedules, AMBER SM is the first platform to fully integrate these tools with all other business processes of educational providers. A complete class schedule can be generated at a click of a button for the entire school year, with full consideration to personalized school breaks and national holidays. The teacher schedule serves as a hub for teachers, with all the necessary tools for easy class management. The classroom schedule allows improved utilization of school resources, equipment, and even staff. AMBER SM's digital scheduler ensures efficient class management and organization, and serves to improve communication, coordination, teamwork, as well as social and business interactions and productivity.
Always come to class prepared
Amber SM's lesson plan builder allows teachers an easier, faster and more creative lesson preparation. Lesson plans are integrated directly into the electronic class schedule, thus enabling easy implementation leading to improved lesson management, better learning outcomes, and teaching and learning improvements.
Track student progress
With a complete e-gradebook fully integrated into our scheduler, tracking students' progress with Amber SM becomes time-saving, easy, effective, and most importantly, available for sharing with your clients anytime, anywhere. Teachers, students and even managers have full insight into students' grades, attendance, homework, exam results and even a portfolio of selected assignments. Improved teacher to student communication ultimately leads to improved client satisfaction for all target groups (students, parents and caretakers, and corporate clients). In addition, our unique set of tools provides decision makers with easy, fast and reliable access to any student data for administration, management, evaluation and planning purposes.
Store and share digital content
Amber SM features a joint database for all digital teaching materials and tools, created either by teachers or gathered from other resources. All materials are stored on our servers and easily accessible to any user with required permission, preventing data loss. Digital teaching materials can be shared among teachers, or distributed to students through electronic schedule integration.
Still not convinced?
Try Amber SM for yourself with a 1-month free trial.