Student manager
Track your students' progress through the most comprehensive online database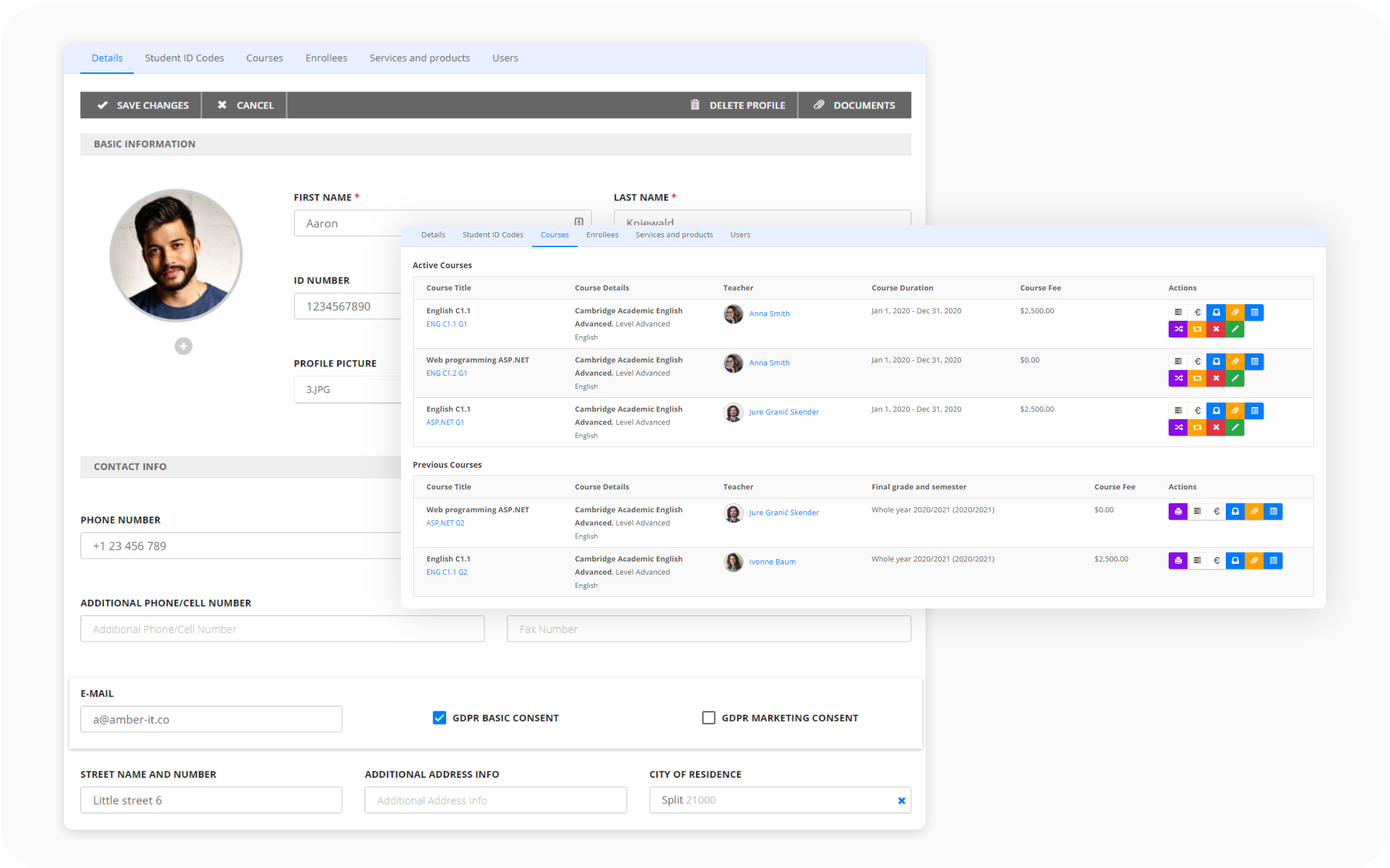 The core of a complete and integrated system must be a well-designed and efficient client manager. The schools' primary business is education, and therefore the primary clients are students and parents of young learners. Student Manager is our largest CRM module. Through a high degree of user customization and a variety of tools, it provides comprehensive management of all your students, including their education portfolios, financial history, personal archives etc.
The student database contains individual profiles of all students that get in touch with your school. Once a profile is created, it remains in your database indefinitely, along with all the relevant information. In addition to standard biodata, our student database allows upload of photos, ID cards, and user-defined personal documents. Using a multi-tab system, it also connects students' course history, digital archives, user accounts, payments and purchase history, as well as an integrated set of student management tools. The student profile database in fact serves as a fully functional CRM through an innovative, user-friendly interface.
Know your students
AMBER SM's interactive course history tab provides a quick and easy access to your students' complete education portfolio. In addition to providing a detailed overview of active and completed courses along with all relevant information (teachers, levels, course books, final grades, etc.), it also features a number of quick access management tools. These allow one-click operations such as previous certificate printing, e-gradebook access, price changes, group switching, and similar.
Share your students' personal portfolio with them
AMBER SM allows teachers to upload selected student assignments (such as essays, student projects, exams or even photos) to their online portfolio. The uploaded materials are automatically visible to students or their parents.
Get rid of your physical archives
User defined digital archive allows each school to define the document types for storage (e.g. student contracts, enrollment forms, exam applications, certificates, etc.). These documents are uploaded for specific courses in the student education history overview, and stored on our secure servers indefinitely. The sigital archive is designed to save money, be environmentally friendly, and provide users with a complete back-up of all the documentation needed for storage.
Still not convinced?
Try Amber SM for yourself with a 1-month free trial.