Finances
Improved financial flows, automated invoicing and simplified accounting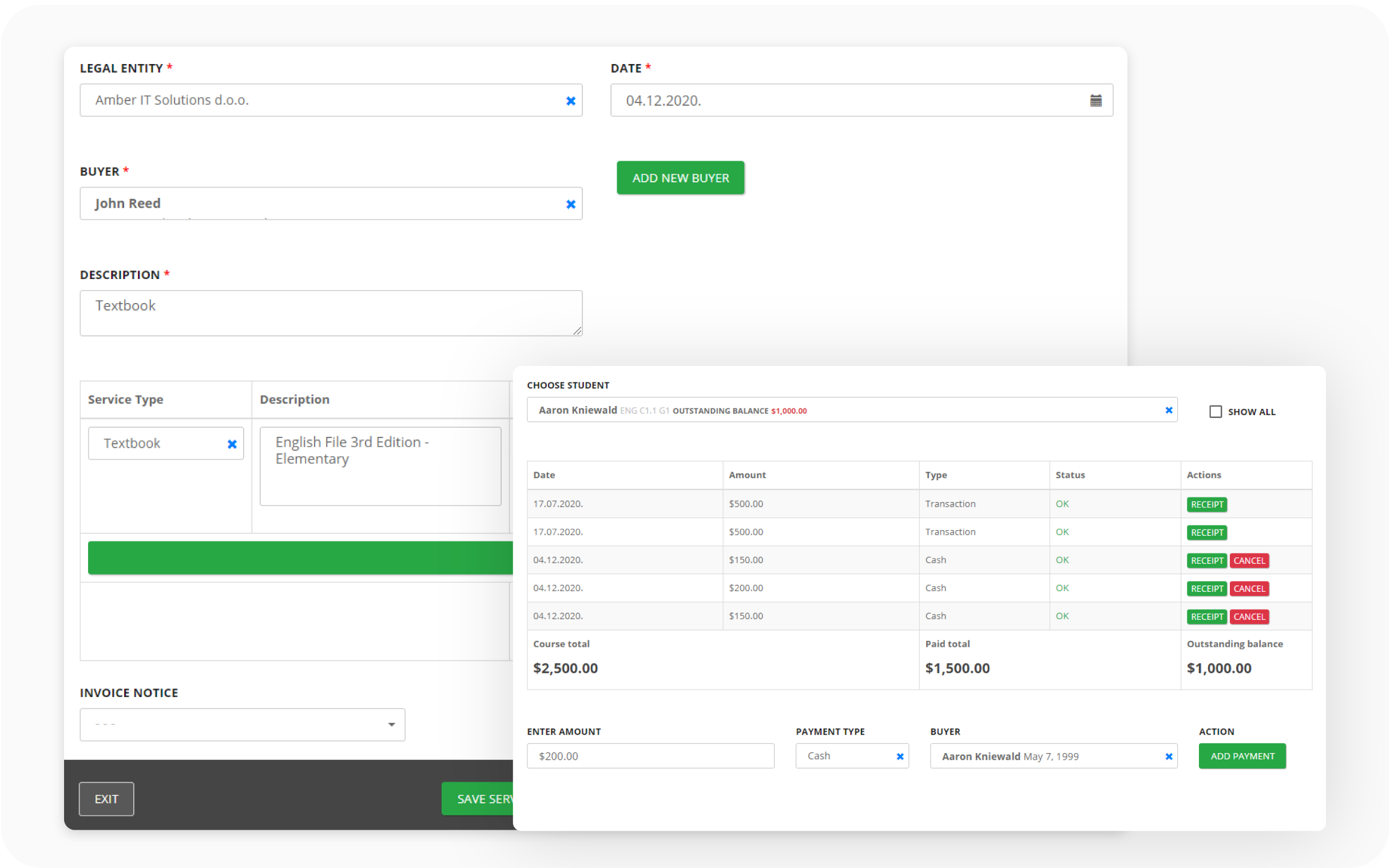 For most education professionals, teaching is a passion. However, it is also a business, and running a business requires immaculate financial administration. Finances are the most regulated aspect of any business, and usually the most vulnerable to outside audits. For education providers, financial management has always been a challenge, due to the complex nature of provided services and client distribution. Amber SM makes financial management easy and allows fast, simple and error-proof financial reporting.
Explore foolproof payment tracking
Amber SM provides tools for error proof payment allocation, distribution and tracking. All your financial transactions are managed through our specialized modules, whether it is cash, bank transfers or credit cards. Automatic invoicing and billing, course pricing, discount tracking, payment history and outstanding balance reports are just some of Amber SMs many features that allow you complete control of your school's finances.
Save money on accounting services
AMBER SM has all the necessary reports (e.g. outgoing invoices, VAT calculator, income calculator) for accounting and bookkeeping purposes. These reports were designed in collaboration with international accounting specialists and consultants, and are generated by simply pressing a button. Moreover, provide your accountant with their own user account (with restricted access to relevant tools and reports), giving them access to relevant data online.
Available financial tools
student payment history
integrated cash registers
bank statement manager
textbook ordering and sales
pro-forma invoice generator
outgoing invoice generator
incoming invoice tracking
quantitative and qualitative expense analysis
payment slip generator
VAT calculator
revenue calculator
and much more
Still not convinced?
Try Amber SM for yourself with a 1-month free trial.